---
---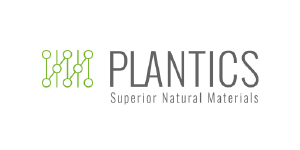 Renewable material of the year 2021. What happened next?
Two years ago, Plantics & Vepa won the 'Renewable material of the year 2021' award for their collection of chairs with a shell of a unique circular plant-based composite material made from hemp fibers and a new thermoset bio-resin.
This unique composite material is part of a new family of fully circular plant-based materials that has been developed by Plantics and is patented worldwide for many different applications. It is based on a revolutionary invention of the University of Amsterdam. The ingredients for the resins are produced out of waste material from plants and are the first 100% bio-based thermosetting resins in the world. The resins are used as a binder in composites (such as the hemp composite material in chairs), coating on paper packaging, and as base material for foams. Because plants capture CO2 from the air and little energy is used during production, the biomaterials are CO2 negative. They are also safe (no VOC, no formaldehyde, flame retardant), and raw materials are available on an industrial scale in Europe. Finally, the materials and the resins are fully circular as they both can be re-used.
Plantics B.V., founded in 2014, is a spin-off from the University of Amsterdam and builds on a revolutionary invention of this University. This has resulted in a unique group of 100% biobased thermoset resins and the world's first 100% biobased thermoset materials. Together with its partners, Plantics develops high-quality, circular and CO2 negative products. Plantics is recognized as one of the most promising biomaterial companies.
In 2021, Plantics together with its partner Vepa, was elected as winner of the global innovation award "Renewable Material of the Year 2021" during the 2021 Renewable Materials Conference as organized by the German nova-Institut. In the same year, the Dutch business newspaper Het Financieele Dagblad positioned Plantics as nr 1 fast growing climate tech company in the Netherlands.