Congratulations to all three winners!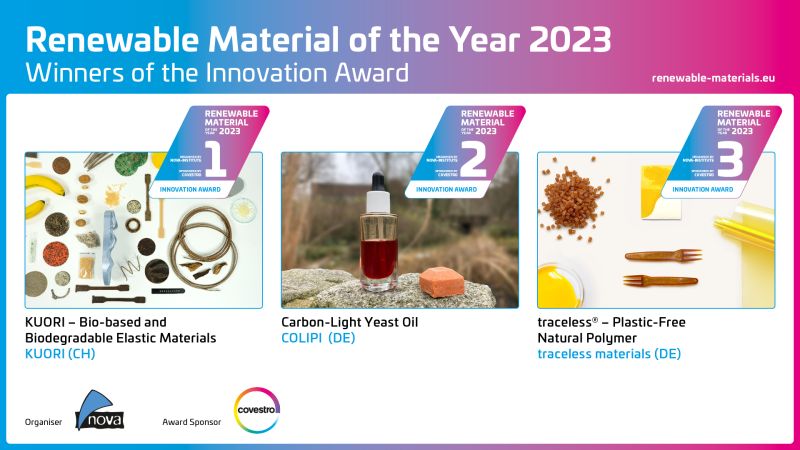 Six Materials Nominated for the Innovation Award "Renewable Material of the Year 2023"
With the innovation award "Renewable Material of the Year 2023", nova-Institute, as organiser, and Covestro, as sponsor, want to recognise particularly exciting and promising solutions that contribute to replacing fossil carbon from the ground. The call for submissions was answered by 30 companies. The advisory board and the nova experts had a hard time selecting the six most exciting and nominating them for the award.
On the second day of the "Renewable Materials Conference", 24 May in Siegburg/Cologne (Germany), the nominated companies will present their products and all 500+ conference participants will vote for the three winners on site and online. An exciting competition for you to be a part of.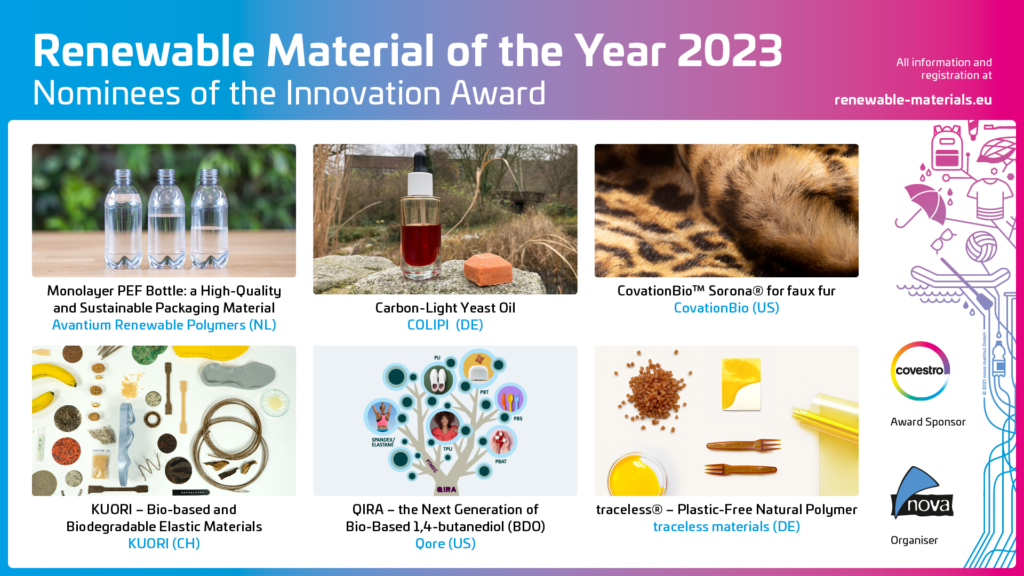 Carbon-Light Yeast Oil – COLIPI (Germany)
COLIPI develops innovative bioprocesses to convert CO2 into sustainable, carbon-light alternatives to vegetable oils such as palm oil. The core innovation and enabler is a patented gas fermentation bioreactor that safely unlocks the world's fastest CO2 using microorganisms that convert off-gases containing CO2, H2 and O2 into carbohydrate-rich biomass. This biomass and/or industrial organic side streams serve as feedstock for the yeast oil fermentation. The product consists of triacylglycerides with a composition similar to that of plants such as oil palm, consisting mainly of C16:0, C18:0 and C18:1 fatty acids. Other valuable molecules such as antioxidant vitamins, namely astaxanthin, tocopherols and other carotenoids are produced.
www.colipi.com

CovationBio™ Sorona® for faux fur – CovationBio (USA)
Sorona® for faux fur is one of the first commercially available faux furs made from plant-based ingredients. It offers unlimited solutions for fashion apparel, such as jacket linings or collar trims, as well as footwear and accessories, including furlined shoes, earmuffs and more. Sorona® for faux fur is an exceptionally soft, natural-feeling animal fur alternative that offers warmth, design flexibility, dyeability and uncompromising durability. Sorona® for faux fur pushes the boundaries of sustainability in fashion while offering consumers an elegant, ethical option that is better for the planet.
www.covationbio.com
KUORI – Bio-based and Biodegradable Elastic Materials – KUORI (Switzerland)
Kuori is developing and producing bio-based and biodegradable elastic materials based on food waste such as banana peels and nut shells. They are sustainable alternatives for conventional elastic materials in various applications. The first use case are shoe soles. This avoids the accumulation of persistent microplastics and offers an ecologic end of life perspective for the product. The new materials can be fully reintegrated into the biological cycle by industrial composting. Hence, the materials enable a circular business model for shoe producers and other manufacturers of goods.
www.kuori-materials.com
Monolayer PEF Bottle: a High-Quality and Sustainable Packaging Material – Avantium Renewable Polymers (The Netherlands)
Avantium has developed a technology to convert plant sugars into FDCA, the building block of PEF: a plant-based, fully recyclable plastic with superior performance. The improved barrier properties result in longer shelf life of the packaged products. The PEF bottle offers a powerful combination of environmental attributes and superior functionality compared to conventional plastics. Due to its superior performance, PEF can also replace glass bottles, aluminium cans and multi-layer bottles. An ISO-certified life cycle assessment shows a significant improvement in carbon footprint compared to the incumbent fossil-based PET bottle.
www.avantium.com
QIRA – the Next Generation of Bio-Based 1,4-butanediol (BDO) – Qore (USA)
QIRA is the next generation of 1,4-butanediol (BDO) – an easy-to-use, bio-based BDO made from annually renewable feedstocks that can reduce CO2 emissions compared to materials using fossil-based BDO. As a key platform chemical, QIRA can be used as a drop-in solution in a wide range of applications including spandex fibres, bio-based plastics and polyurethanes, serving a variety of industries including fashion, automotive, packaging and electronics. QIRA can replace the fossil-based chemical counterpart with a better sustainability performance.
www.myqira.com
traceless® – Plastic-Free Natural Polymer – traceless Materials (Germany)
traceless® is part of a new generation of plastic-free natural polymer materials that go beyond bio-based or biodegradable plastics. The material is based on plant residues from the agricultural industry and contains 100 % bio-based carbon content. traceless® is a toxic-free and climate-friendly solution, emitting up to 95 % less CO2 in its manufacture and disposal than conventional plastics. And although traceless® looks and feels like plastic, it is certified plastic and microplastic free and fully bio-circular – designed to leave no trace. traceless® granulates can be used in a wide range of end products.
www.traceless.eu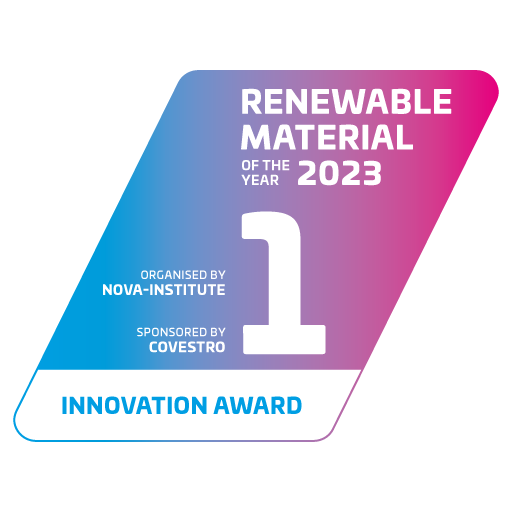 The answer to the hunt for renewable materials: The Renewable Materials Conference. Its unique concept of presenting all renewable material solutions at one event hits the mark: bio-based, CO2-based and recycled are the only available alternatives to fossil-based chemicals and materials.
Ready-to-use fossil-free sustainable material solutions with a low carbon footprint are in fast-growing demand. Innovative brand owners are keeping an eye out for such solutions, in particular those that will soon reach the mainstream.
To further motivate this trend, the innovation award "Renewable Material of the Year 2023", organised by nova-Institute and sponsored by Covestro, will be granted at the Renewable Materials Conference 2023. Producers and inventors of innovative technologies and applications based on biomass, CO2 or advanced recycling were invited to submit their innovation.

First stage: 28 February 2023
Simply submit a completed application form (below) and a leaflet or other additional information in PDF format about your product in English, including printable digital images (300 dpi) that we can use free of charge in our subsequent media advertising. The documents should indicate what is special about the innovation and when it was or will be introduced to the market. If possible, please send us a sample of your product/material to the following postal address:
nova-Institute, Michael Carus, Leyboldstr. 16, 50354 Huerth, Germany
For questions, please contact michael.carus@nova-institut.de

Second stage: Mid of March 2023
A jury consisting of representatives of nova-Institute, the advisory board and the conference sponsors will nominate the outstanding 'Top 6' applicants in the run-up to the conference.
After the jury has selected the 'Top 6' among the applicants, their application documents will be made available for download on the conference website to give our audience and other interested parties a first insight into these innovations.

Third stage: At the conference, 24 May 2023
In a 10-minute on-site presentation, each of the six selected companies will introduce their innovation on the 2nd day of the conference. Following the presentations, the final award winners will be chosen by the conference participants and presented at the innovation award ceremony in the evening.
In addition, the "Top 6" will present their innovations in a shared exhibition space provided by nova-Institute during the entire conference. Each "Top 6" candidate receives one free ticket to the conference and further tickets at a discount rate.
nova-Institute will use its large network of 100,000 companies and hundreds of press contacts to generate market demand for the winners.
Winners of the past innovation awards (PDF):